Welcome To Our Website!
Custom Home Builder from design to turn key finish.

We are a General Contracting service that offers full home remodeling, additions, concrete, framing, decks, fences, siding, roofing, doors and window replacements, painting, drywall repair, finish carpentry, tile and slab work, kitchen and bathroom remodeling, cabinet installations.

All work is high quality and guaranteed!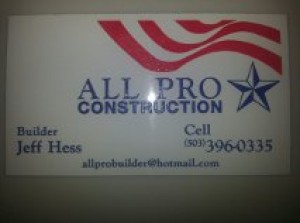 Services
General Contractor serving your needs from design to turn key finish, will procure permits for new construction and remodels. We offer full services for building residential to custom homes.
General Contracting Services
Design to turn key finish
New Home Construction
Additions
Testimonials
LinkedIn Recommendations Joe Nelson has written an updated recommendation of your work as Owner at All Pro Construction LLC . Details of the Recommendation: "Jeff was recommended to me by my architect and I couldn't be happier with the results. Jeff built a two story addition to the rear of my 90 year old historic home. He removed nearly the entire rear of the house and reconstructed it with precision. Jeff even had to hire a crane to come in to help place a huge beam. His years of experience and confidence allow him to work efficiently and effectively. He is an extremely hard worker, is punctual, consistent, trustworthy, reliable and most importantly gets the job done right and on time - what more could you ask for? There were a couple instances where I wanted to make some adjustments along the way and Jeff took it in stride. There were even a couple instances where I made changes after he was done with something and instead of standing around and talking about it, Jeff fixed it and kept on going - no whining or complaining. What I also like and appreciate about Jeff is that he looks out for the customers best interest. There was a situation with some very expensive windows that I had purchased and they didn't fit correctly. I had the window company out and they were trying to tell me to basically "make them fit" by cutting a few corners. Jeff introduced himself to the window person and told them that I needed the correct window's and that the "make it fit" scenario wouldn't work.... They listened... I'm going to have Jeff over this spring to redo and roof my garage. I would highly recommend him, he does a great job, is quick and is a great value." Service Category: Contractor Year first hired: 2011 (hired more than once) Top Qualities: Great Results, Expert, Good Value
Joe Nelson - Portland Oregon
Mike McKennie , Enterprise Account Executive, Kronos Corporation (business partner) was a consultant or contractor to you Jeff is a hard-working, detail oriented and honest contractor. You will not find a professional who is as focused and dedicated to his clients satisfaction as Jeff is. I highly recommend Jeff and his company for any construction work you might be considering. January 25, 2013
Mike McKennie - Beaverton Oregon
Yolanda - Yo Audrey (client) Yolanda - Yo hired you as a General Contractor in 2008 Top qualities: Personable, Expert, High Integrity Jeff helped me tear down a make shift wall in my garage without incident and cleaned up remaining wood and particles in a timely and efficient manner. June 06 2008
Yolanda Audrey - Vancouver Washington
To Whom It May Concern, I am writing this letter on behalf of Jeff Hess who owns All Pro Construction LLC. My property at 642 NW 7th Street Pendleton, OR., had a kitchen fire and I was in need of a total kitchen remodel. I was referred to Mr. Hess and I was extremely happy with the way he conducts his business and the quality of work that he put into my remodel. Mr. Hess went way above and beyond what was needed to finish my remodel. I would highly recommend Mr. Hess and All Pro Construction LLC, for any further work that I may need in the future on my home. Sincerely, Diane Benson
Diane Benson - Pendleton Oregon
For the past 17 years I have known Jeff Hess of All Pro Construction LLC and used his company on a wide range of projects. He has completed large remodeling additions to my personal residence and repairs to my five rental homes. He has completed projects from framing, roofing, siding, painting, concrete foundations to driveways and sidewalks. He completed an Art Studio at my home in Beaverton, with roofing, windows, tile and lighting. At my business he completed a remodel and storage unit and did so in a manner that I was able to remain open and not have a loss in revenue. All projects are completed on time and in a professional manner. My tenants found Mr. Hess to be friendly, professional and very concerned about their needs and comfort, as he worked on each of their projects. Mr. Hess has always guaranteed his work and I have never had to have him return to redo any project he has completed. I have found him to be trustworthy, helpful, friendly, thrifty and most importantly, adhering to a timetable. I have recommended All Pro Construction LLC, to both my friends and family. All have found him to be professional and fair. Larry Smith Owner Sunset West Tanning larry@sunsetwesttanning.net 503-936-5614
Larry Smith - Beaverton Oregon